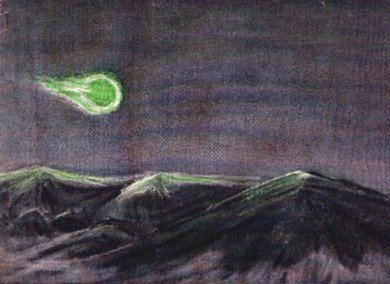 Eyewitness painting of a mysterious green fireball rushing through the night sky over New Mexico. By Mrs. Lincoln La Plaz, "LIFE" magazine, April 7, 1952.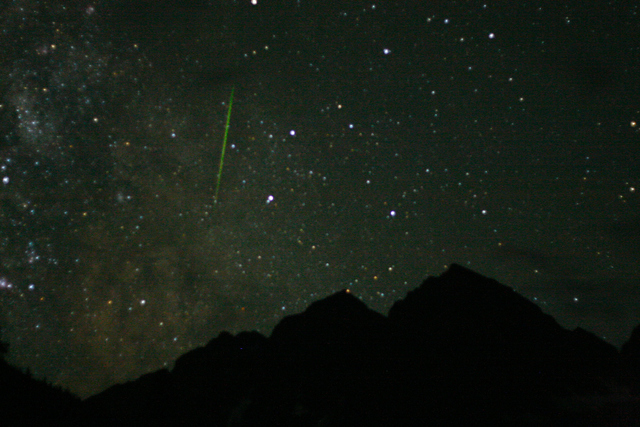 Green fireballs in an organized formation over Camp Hood in Texas, located directly near Killeen Base, a nuclear weapons storage site. The AFOSI at Kelly, TX investigated the phenomenon.
For a three year period, between late 1948-1951, a flurry of sightings of "green fireballs" occurred in the southwestern United States. At one point military and other government agencies feared that enemy agenst were somehow connected with fireballs, which were spotted near sme of America's most secret national-security bases.
The first sightings to attract official attention took place on the evening of December 5, 1948 when two pilots flying over New Mexico reported two seperate observations, 22 minutes appart, of a pale green light that was visible for no more than a few seconds. The witnesses insisted that it was not a meteor that they had seen, but some kind of strange flare. The next day a similar "greenish flare" was spotted for three seconds over supersecret military installation Sandia Base, part of the Kirtland Air Forse Base complex in New Mexico.
Also on December 6, the Seventh District Air Force Office of Special Investigations (AFOSI) at Kirtland launched a study. And two pilot investigators observed one of the strange objects about 2,000 ft. above their aircraqft the following evening. They noted that it seemed to move parallel to the Earth's surface and that it resembled the flares commonly used by the Air Force. "However, the light was much more intense and the object appeared to be considerably larger and more brilliant than a shooting star, meteor, or flare." After only a couple of seconds, "the object seemed to burn out....and a trail of glowing fragments reddish orange in color was observed falling toward the ground."
The next day one of the officers contacted Lincoln La Paz, director of the University of New Mexico's Institute of Meteoritics and an Air Force consultant on top-secret matters. La Paz acknowledged that the green flares were different from any meteors he had ever heard of. Not long afterward, the scientist saw one of the lights for himself. From his own observations and those of two other witnesses from the Atomic Energy Security Service (AESS), La Paz decided taht the object had flown too slowly and too silently to be a meteor. In a letter to the investigation's commanding officer, he noted that "none of the green fireballs has a train of sparks or a dust cloud...This contrasts sharply with the behavior of noted in cases of meteoric fireballs--particularly those that penetrate to the very low levels where the green fireball of December 12 was observed.
At La Paz's suggestion, the AESS organized patrols to try to photograph the fireballs. And scientists and engineers at New Mexico's Los Alamos Scientific Laboratory set up a group to study sightings and reports. As the number of accounts continued to grow, the army and the air force became more and more concerned; they were especially disturbed by La Paz's conclusion, by 1949, that the fireballs were not a natural occurrence, but had been sent there my someone or something.....
(Clark, Jerome, The Emergence of a Phenomenon: UFOs from the Beginning through 1959--The UFO Encyclopedia, Vol 2. Detroit: Omnigraphics, 1992.)